Motorized Roller Drape, Integrateable - CSS-D2-WL
GTIN(UPC-EAN): 0610696254160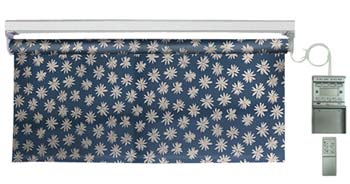 Description
SunSeeker Motorized  Roller shades, also called roll shades or roll up shades, are an easy and economical way to add color, style and texture to any decor. A popular choice, roller shades are constructed with modern fabrics and offer simple functionality for ease of use.
SunSeeker Motorized  Drapes can be used to create elegant, casual or sophisticated looks. When combined with another window treatment such as blinds or shades, drapery adds another beautiful dimension to your window.
These tracks can be used either with the help of switches or remote controls using Infra red technology. Motors can be integrated with the SBUS systems and touch control panels. Heavy duty motors offer quiet, reliable operation. Precision engineered, approved for commercial & residential use.
Features:
Simplified system components requiring minimal installation hassles.
Simple connectivity, programming and operation.
Reliable and economical automation of the windows for commercial and residential applications
Flexible for integration with Building and home automation systems for simple operation and energy saving features
Precision engineering. Approved for commercial and residential use.
Contact closure control for integrated systems. Requires simple modification.
Automatic stop open & closed positions. Can also stop at any intermediate position.
Benefits:
Save Energy
For Privacy
Health (Disinfection – Radiation Protection)
Comfort
Prestige (gives higher image as techno-Home Owner)
Furniture Protection ( protects furniture  against sun UV rays and discoloration)
Specifications
L/R wall mount bracket;
Aluminum Tube and Lower Channel
Wireless Infrared (IR) Remote Controller;
Batteries;
Wall Mount Control Board;
AC-DC 24 V power adaptor;
Screws, Cable, Spanner & Screw Driver;
Owner and Operation Manual
New Features
Q & A
Connection Diagrams content
Data Sheets content
Applications:
Home / Villa
Office
Hospital
Bank