Smart-Bus 5 in 1 Multifunction Sensor (G4) - SB-5in1-CL
GTIN (UPC-EAN): 0610696254016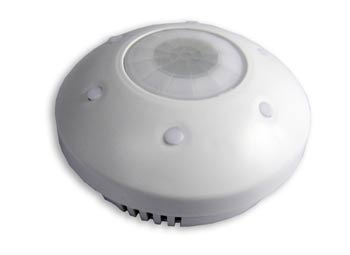 Description
Bus Enabled, Addressable Ceiling Mountable 5in1 Multi-Functional sensor. One device has 5 functions designed perfectly for Automation Industry techno-lifestyle needs. This All-in-One device contains: ( addressable Motion sensor, addressable 2-Zone Dry contact inputs one is for Safety, and one is for Security to connect to the room window sensor and smoke detector or any other sensor, save the wiring and programming time, it has 32 Logic lines (if, then, and or, nand, nor), and it support Burglar Security Code input checking, arming and disarming,
**Added function: Easy S-BUS Connectors, mini USB firmware upgrade port, & Advanced mechanical design and
size to fit ceiling boxes twist in.
Control Compatibility:
• Security
• Safety
• Maintenance
• Health
• Automation
Specifications
Inputs
2-Dry Inputs (Volt Free) +
1 PIR 10mX110 degrees ,
NO/NC
Internal Assignment enabled
Controls
1 x Advanced RS485 S-BUS serial port links (screw link)
32 logic lines & 250 prog. Flags
Burglar security and Home safety Zone control function.
Upgrade IO
1 x mini USB port (to connect to special programming board)
Dimensions & Weight
W 85mm x L 85mm x H 39mm
Packed weight 0.14 kg
WHY G4 (GENERATION-4) IS BETTER? 9IN1 SENSOR, 6IN1, 5IN1
9in1 Sensor, 6in1 Sensor
(Features compared)

Old Smart-BUS

New S-BUS G4

Easy To Open and close without stocking

Difficult

Easy

Easy Twist and Screw Installation Simplicity

Not Available

Available

Ability to Snap Connect/Disconnect Cables

Not Possible

Snap In Connector

Electronic Board can Be easily removed and protected till Installation Time, while base and connectors remain

Not Possible

Possible

Upgrading the Device Made Easy

Difficult

By Mini USB

Temperature Sensor Built in and Can Link to HVAC2

Not Available

Available

Unified Milky White Color that dissolve into ceiling without the Brown IR Emitter ring cover 9Avoided)

Not Available

Available

Advanced cable Run Design to accommodate Finished Installation Needs at Concreted Ceiling Homes

Not Available

Available

Easy Backup and Restore using Configuration SW

Not Available

Available

Work on Both BUS and Cloud Technology

Not Possible

Possible

Advanced Spacing and Isolation to avoid Electromagnetic Field false Signaling

Not Available

Available

well designed Air cooling Vents at base of Module

Standard

Advanced, Double efficiency

Genuine Patent and Brand Embedded into all Parts and Plastics

Not Available

Available

Genuine Product Barcode GTIN, and Holographic Label Distinguisher

Not Available

Available

All Other Standard Smart-BUS Advanced Automation Features

Included

Included
Q. What is the Range of Motion detection and IR range for every sensor?
A. a motion Detection range of 10 meters diameter (5 in every direction from sensor center) if installed at height of 3m. and IR transmission Range of 12 meter diameter (6 in every direction).
Q. How many programmable logic lines available in every multi-function sensor?
A. there are 32 Logic lines and 250 programmable flags. (Each sensor is considered a complete Zone Automation control commander; it would have been complete system if it has built in Time clock with battery).
Q. which sensors have built-in Temperature couple and what is the use of this?
A. both 9in1 and 6in1 sensors have built-in Thermal couple for temperature reading. It can be used to Pair with HVAC2, or to act as temperature reading source for SW, Touch screen, or DDP. It can also be used to average the temperature of several reading devices or points in the same space. Best application for it is the use in one zone where only one HVAC supply multi areas, in such case if temperature threshold is reached in the slave zone then AC shall trigger regardless if Main DDP desired or current temperature settings are differently assigned. Priority will be given to the critical zone as per logic command.
Q. How many Dry contact inputs the Multi-sensor Have, and can we put more than one door or window magnetic contact on single zone?
A. each Multi-Sensor have 3 addressable zones, Only 2 of which are assigned for dry Inputs. On each addressable dry input, installer can connect on series as many doors or windows needed, but must understand that either one of them is open then, all will be reported unsecure.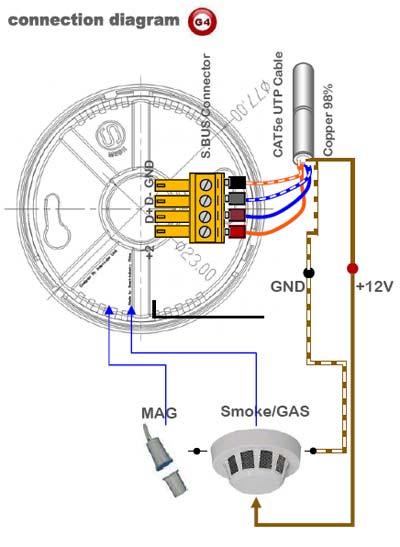 ---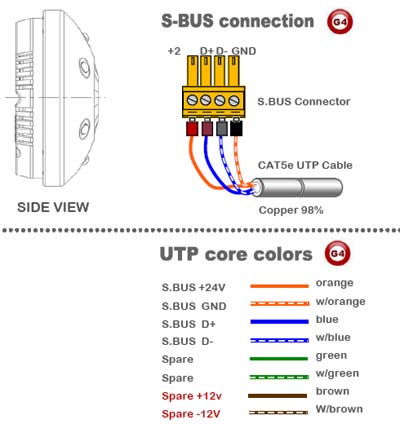 TECHNICAL DATA:
Inputs
2-Dry Inputs (Volt Free) +
1 PIR 10mX110 degrees ,
NO/NC
Internal Assignment enabled

Applications
• Security Applications in connection
to: (vibration, UV, magnetic
contacts, Panic, Pressure
matt, PIR, microwave, Driveway
sensors...etc.)
• Safety Applications in connection
to: (Gas Leak, Smoke,
Pool Guard, Elevator Panic, CO
gas, Bathroom Help..etc.)
• Maintenance and Health Applications
in connection to: (water
Leak detector, water tank low
level alert, Filter sensor...etc.)
• Logic Control
• Energy Saving

User Controls
• LED status indicator/channel
• Diagnostic LED+ BROADCAST

Programming
• Advanced Software Configuration
& Programming
• Manual pairing to HVAC and 1
Light channel with default 10
Min, timer

Compliance
CE Mark EMC


Controls
1 x Advanced RS485 S-BUS
serial port links (screw link)
32 logic lines & 250 prog. Flags
Burglar security and Home
safety Zone control function.

Upgrade IO
1 x mini USB port (to connect to
special programming board)

Operation Protection
• BUS Rv. Polarity Protection
• BUS Short Circuit Protection

SBUS DC Supply
24VDC with flexible tolerance
between 8-32VDC. Flexible
ability to add power supply as
to be needed any where
Power consumption: 15mA

Installation
• Ceiling Mount Twist & Lock
Ready

Operating Environment
0º to 45ºC ambient temperature
20% to 93% RH

Enclosure Material
Polycarbonate

Dimensions & Weight
W 85mm x L 85mm x H 39mm
Packed weight 0.14 kg
Applications

• Security Applications in connection to: (vibration, UV, magnetic contacts, Panic, Pressure matt, PIR, microwave, Driveway sensors...etc.)
• Safety Applications in connection to: (Gas Leak, Smoke, Pool Guard, Elevator Panic, CO gas, Bathroom Help..etc.)
• Maintenance and Health Applications in connection to: (water Leak detector, water tank low level alert, Filter sensor...etc.)
• Logic Control
• Energy Saving