6.5" Ceiling Speaker Dual Cross Over - RS-CS65K-CL
GTIN (UPC-EAN): 0610696253828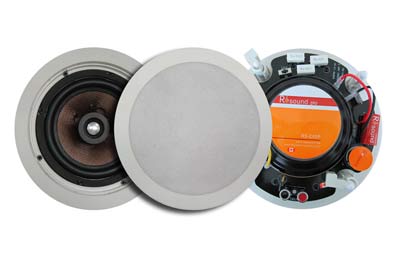 Description
Easy Connector. Manual Channel to Switch Programming. 2D bar Coded, GTIN+. Accept 48 Play list Folders instead of 24. Auto Play Enabled after Source Change with Default volume Preset. Play List management, Multi Zones Command & Sync.
Specifications
Rated power: 50W (25W RMS)
Max power: 60W (30W RMS)
Impedance: 8O (8 ohms)
Efficiency / Sensitivity: 85dB-95dB 1W/1M
Freq response: 55 Hz -18 KHz
Cutout Dimensions: 195 mm
Dimensions (mm): 277 Dia X 85 Depth
Tweeter: 20mm Silk, 12dB / Octave; 4KHz
Dust Filter Cover: Polypropylene
Surround: Butyl Rubber
Cone Material: Woven Kevlar
Color: White / Off
Woofer Cross Over: 12dB / Octave; 3 / 4KHz
Magnet: 10 oz/ 80 x 30 x 15mm/ Y35
Q: What are the factors needed in ceiling speakers?
A: Wherever you're installing your in-wall or in-ceiling speakers, there are a few key factors to consider:
* Frequency response (Hz) — The range of human hearing is about 20-20,000 Hz. Frequency response tells you what portion of that range a speaker can reproduce. For example, a speaker with a frequency response of 50-20,000 Hz handles a larger portion of that range than a speaker with a frequency response of 65-20,000 Hz. You'd generally hear deeper bass and more balanced sound from the 50 Hz speaker.
* Power handling (watts) — A speaker's recommended power specification usually tells you the maximum amplifier power the speaker can handle; often, its minimum power handling is included as well. This information tells you how much power your amp or receiver should have to safely drive your speakers. For example, a 100-watt RMS receiver would be a good match for a speaker with recommended power of 20-100 watts.
* Sensitivity (dB) — A speaker's sensitivity, or efficiency, rating indicates how effectively it uses the power it receives from your amplifier. Speakers with higher sensitivity ratings can be played louder without straining your amp. In fact, a model with a sensitivity rating that's 3 dB higher than another speaker's only needs half as much power to deliver the sound at the same volume.
Connection Diagrams content
Data Sheets content
Applications:
Bedrooms
Bathrooms
Kitchen
Living Room
Office
Clubs / Bars
Hospital
Bank
School / University