Motorized Vertical Blinds, Integrateable - CSS-V2-WL
GTIN(UPC-EAN): 0610696254177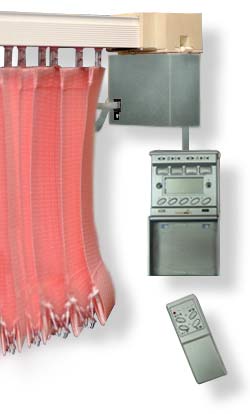 Description
Vertical blinds are the traditional choice for sliding patio doors and other large windows. With a wide variety of styles and materials including fabric, cellular, aluminum, faux wood and solar screen, vertical blinds can suit almost any decor requiring a functional yet elegant window treatment solution. Whether you are looking for energy efficiency, light control or simply to preserve a beautiful view, vertical blinds are the versatile solution for your home's large windows. These blinds fit an inside mount window perfectly. Installation was quick & easy.
Features:
Simplified system components requiring minimal installation hassles.
Simple connectivity, programming and operation.
Reliable and economical automation of the windows for commercial and residential applications
Flexible for integration with Building and home automation systems for simple operation and energy saving features
Precision engineering. Approved for commercial and residential use.
Contact closure control for integrated systems. Requires simple modification.
Automatic stop open & closed positions. Can also stop at any intermediate position.
Benefits:
Save Energy
For Privacy
Health (Disinfection – Radiation Protection)
Comfort
Prestige (gives higher image as techno-Home Owner)
Furniture Protection ( protects furniture  against sun UV rays and discoloration)
Specifications
6 nos. of combined wall mount bracket;
Quiet motor Output Voltage 24V DC;
Wireless Infrared (IR) Remote Controller;
Batteries;
Wall Mount Control Board with LCD Timer;
AC-DC 24 V power adaptor;
Screws, Cable, Spanner & Screw Driver;
Owner and Operation Manual
New Features
Q & A
Connection Diagrams content
Data Sheets content
Applications:
Home / Villa
Office
Hospital
Bank