Smart-Bus 4-Zone Dry Input Module (G4) - SB-4Z-UN
GTIN(UPC-EAN): 0610696254023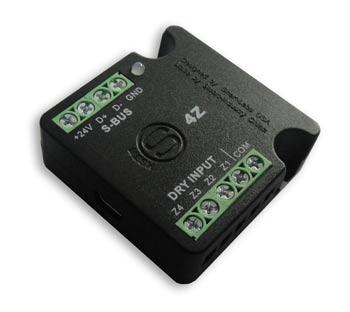 Smart-Bus 4-Zone Dry Input Module (G4) - SB-4Z-UN

Description
Bus Enabled, Addressable 4-Zone dry Contact Input Module. used for Automation, to connect to any door window sensor, PIR , Gas leak, Smoke detectors, Water Leak sensors, Pressure Mats, panic...etc. (supports 4 zones Security & Safety). Another application is for converting Classical Manual Switches into BUS Automation use. Built-in intelligence and delay function, 2-Way Switch update status function. Can fit behind switch into wall box.
**Added function: Bigger screw terminals, Broadcast button, and mini USB firmware upgrade port.
Control Compatibility:
• Security
• Safety
• Maintenance
• Health
• Converting normal switches into automated ones
Connection Port:
WHY G4 (GENERATION-4) IS BETTER? 4Z, AND IR EMITTER (W/CURRENT SENSOR)
| | | |
| --- | --- | --- |
| 4Z/IR Modules (Features compared) | Old Smart-BUS | New S-BUS G4 |
| Upgrading without opening the Device | Not Possible | By Mini USB |
| Broadcast Button for addressing while Networked | Not Possible | Available |
| Big Easy Screw Terminals to connect Cables | Too Small | Bigger Size |
| PCB Electronics Design Complexity | Random | Organized |
| Updated Channel Operation status on DLP and SW if Manually Changed with 2way switch function | Not Available | Available |
| Easy Twist to Open Design | Not Possible | Available |
| Easy Backup and Restore using Configuration SW | Not Available | Available |
| Work on Both BUS and Cloud Technology | Not Possible | Possible |
| Genuine Patent and Brand Embedded into all Parts and Plastics | Not Available | Available |
| Genuine Product Barcode GTIN, and Holographic Label Distinguisher | Not Available | Available |
| All Other Standard Smart-BUS Advanced Automation Features | Included | Included |
Download: SB-4Z-UN  (Data Sheet)
TECHNICAL DATA:
Inputs
4-Dry Inputs (Volt Free)
NO/NC
Internal Assignment enabled
using Software setup

Applications
• Security Applications in connection
to: (vibration, UV, magnetic
contacts, Panic, Pressure
matt, PIR, microwave, Driveway
sensors...etc.)
• Safety Applications in connection
to: (Gas Leak, Smoke,
Pool Guard, Elevator Panic, CO
gas, Bathroom Help..etc.)
• Maintenance and Health Applications
in connection to: (water
Leak detector, water tank low
level alert, Filter clogged sensor...
etc.)
• Converting Manual Wall
Switches into Automation enabled
User Controls
• LED status indicator/channel
• Diagnostic LED+ BROADCAST

Programming
• Advanced Software Configuration
& Programming

Compliance
CE Mark EMC

Control IO
1 x Advanced RS485 S-BUS
serial port links (both train &
screw link types)

Upgrade IO
1 x mini USB port (to connect to
special programming board)


Operation Protection
• BUS Rv. Polarity Protection
• BUS Short Circuit Protection

SBUS DC Supply
24VDC with flexible tolerance
between 8-32VDC. Flexible
ability to add power supply as
to be needed any where
Power consumption: 12mA

Installation
• universal Mount Ready
Operating Environment
0º to 45ºC ambient temperature
20% to 93% RH

Enclosure material
Polycarbonate

Dimensions & Weight
W 46mm x L 46mm x H 16mm
Packed weight 0.06 kg
Q. How many addressable Zones does each 4-Z have and how far can the sensor be located away from the 4-Z?
A. each 4-Z support 4-Addressable Dry input zones. Any volt free sensor can be connected to any of those inputs. The distance tested using Cat5e as conductor was 300 meter with perfect results.
Q. can 4-Z send trigger commands through bus to activate systems?
A. Yes it can
Q. if the 4-Z is used to convert standard Wall switches to be Automated, can it be used as 2-way for stairs or hotel Bed room example?
A. each Yes it can be utilized perfectly and it support the 2-way switch function and status update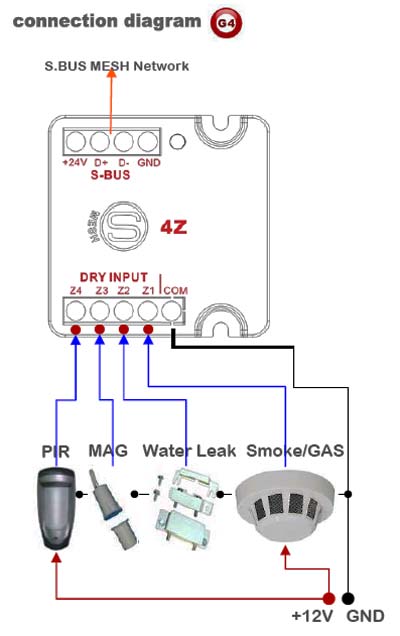 ---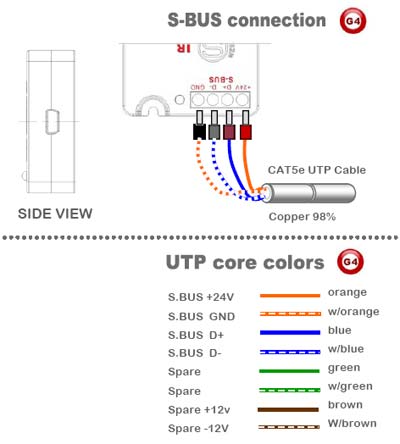 Softwares and Firmwares
Applications
• Security Applications in connection to: (vibration, UV, magnetic contacts, Panic, Pressure matt, PIR, microwave, Driveway sensors...etc.)
• Safety Applications in connection to: (Gas Leak, Smoke, Pool Guard, Elevator Panic, CO gas, Bathroom Help..etc.)
• Maintenance and Health Applications in connection to: (water Leak detector, water tank low level alert, Filter clogged sensor... etc.)
• Converting Manual Wall Switches into Automation enabled User Controls
• LED status indicator/channel
• Diagnostic LED+ BROADCAST