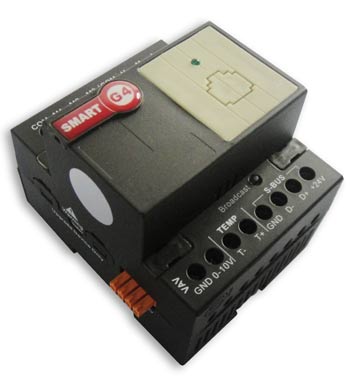 Smart-Bus HVAC2, Air Condition Control Module (G4) - SB-HVAC2-DN

Description
DIN-Rail Mount Advanced Climate Control Module that installs near HAVC unit to save cost of wiring and to eliminate the need for standard ugly thermostats. being S,BUS enabled it can be controlled flexibly from any DDP panel and any BMS Automation Software. The HVAC2 Module can control Single and Multi stage Units (Heat, Cool, Fan low, High, Medium, VAV 0-10VDC) it can Handle any FCU, AHU, VAV System. With easy labeling space, Comes ready with LED indicator, network health, broadcast button. Good for applications witch require energy saving, Health intelligent control such as residential, commercial or industrial.
**Advanced: HVAC2 Can be Manually Programmed by any Electrician on site without need for PC.
HVAC Compatibility
• All Types of FCU
• All Types of AHU
• VAV 0-10VDC
• Relay Driven Fan Speed (H,M,L)
Connection Port: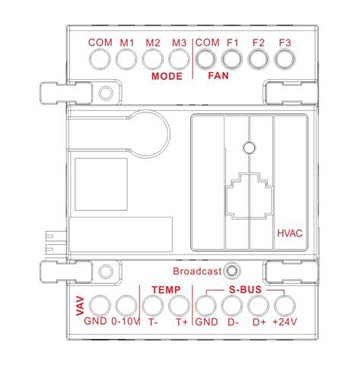 WHY G4 (GENERATION-4) IS BETTER? HVAC 2
Air-conditioning Control 
(Features compared)

Old Smart-BUS

New S-BUS G4

Din Rail and Wall Mountable Installation

Only DIN

Both

S-Connector Technology (No Bus Wiring inside DB Train Line)

Not Possible

Available

Added 1 Speed Relay for Medium, High, Low fan

Not Available

Available

Upgrading without opening the Device

Not Possible

By Mini USB

Ability to Snap Connect/Disconnect Cables

Not Possible

Snap In Connector

Built in Auxiliary temperature Sensor, HVAC2 Works stand Alone without need for DLP for commercial BMS applications

Not Available

Available

Flexible Port allocation and assignment

Must Upgrade every time

Standard

Colors Distinguisher Face Plates (to know which product is which)

Not Available

Available

Easy Backup and Restore using Configuration SW

Not Available

Available

Can Link to Temperature Humidity sensor

Not Available

Possible

Work on Both BUS and Cloud Technology

Not Possible

Possible

Programming and Pairing Manually to DDP

Not Possible

Easy

well designed Air cooling Vents at Back and front and Side of Module

Standard

Advanced, Double efficiency

Big Easy Label Space for Installer labeling

Small, Not Easy

Visible and Wide

Genuine Patent and Brand Embedded into all Parts and Plastics

Not Available

Available

Genuine Product Barcode GTIN, and Holographic Label Distinguisher

Not Available

Available

All Other Standard Smart-BUS Advanced Automation Features

Included

Included

TECHNICAL DATA:
Power Compatibility
HAVC 80-240VAC, 50/60Hz
HVAC 12-48VAC Types
FAN/VAV 0-10VDC
Power consumption: 20-25mA

System Compatibility
AHU (Air handling Units)
FCU (Fan Coil Units)
Single and Multi Stage Cool/
Heat with 3 Fan Speed (H,M,L)
VAV Damper Control

Outputs
6 x Separated Switched Relay
outputs rated at 5A each Ch.

Control IO
3 x Advanced RS485 S-BUS
serial port links (both train &
screw link types)

Upgrade IO
1 x mini USB port (to connect to
special programming board)

User Controls
• LED status indicator/channel
• Diagnostic LED+ BROADCAST

Programming
• Manual Pairing Programming
to DDP Panel.
• Advanced Software Configuration
& Programming

Compliance
CE Mark Low Voltage
CE Mark EMC

Operation Protection
• PID Compressor Sequence
• Protecting Delay 0-60min
• Startup Delay 0-25 Sec.
• BUS Rv. Polarity Protection
• BUS Short Circuit Protection

Presets
Accept Celosias and Fahrenheit
temperature Settings
Cool temp Preset, Heat Preset.

Installation
• 35mm DIN-Rail Mount Ready
• Wall Mount Ready (4P)

SBUS DC Supply
The HVAC connection is designed for Low Current (LC) 24v direct connections.

Warning
To use with 220VAC must add isolated Contractor for each channel between HVAC relay and load connected to it.
Eg. Fan. Compressor. etc.

Wiring Terminals
10 each is good for 2 x 2.5mm2
or 1 x 4mm2 max conductor size

Operating Environment
0º to 45ºC ambient temperature
20% to 93% RH

Enclosure & Size
Polycarbonate, DIN-rail (4 Unit)

Dimensions & Weight
W 91mm x L 73mm x H 75mm
Packed weight 0.26 kg
Q. Can HVAC2 Work without need to purchase DDP?
A. Yes, the new HVAC2 (G4) is designed to work as stand alone as well as networked, it can read from its built in aux-port Temp sensor, and can receive its settings and temperature desired from BMS or automation control Software for Commercial centers and open offices, or hotel lobby applications..etc)
Q. what systems can the HVAC2 control?
A. HVAC2 can control any HVAC unit type like FCU, AHU. Or even VAV 0-10V.  (good for Split ducted, Package, Desert Coolers, Chillers, VAV ++)
Q. Can HVAC2 Control different fan speeds?
A. Yes, HVAC2 has 3 Fan speed relays built in. (high, Mid, Low)
Q. Can HVAC2 Control Heat Pump HVAC type, or multistage type?
A. Yes, the new HVAC2 (G4) is designed to work with both types, and to handle single and multistage (2-3 AC cooling units).
Q. How can we control IR operated Systems like Split AC?
A. Simply by using Smart-BUS IR emitter (SB-IR-UN)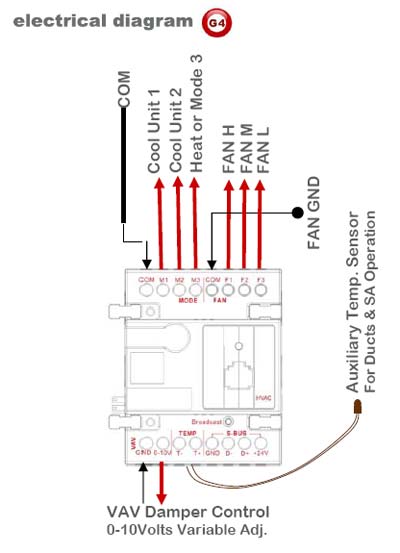 ---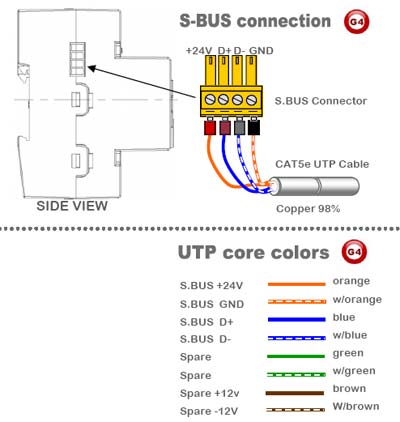 Documents
Softwares and Firmwares
Applications
• Homes
• Hotels
• Restaurants
• Luxury Boats
• Schools
• Factories
• Prayer Halls
• Commercial centers