Smart-Bus Flourescent Ballast (0V-10V) Dimmer 16A/Ch(G4) - SB-6B0-10V-DN
GTIN (UPC-EAN): 0610696254610
Description
DIN-Rail Mount, 6 Channel 0-10V Ballast controller. To dim your Fluorescent Tube Lights and save tube Lights energy also gives different mood lighting in the room for a more comfortable lighting for the human eyes. It Can Control 6 channel, each can handle 30 Looped 0-10V Ballasts, Inclusive with 16A relay per channel. 220/110 VAC, 50- 60Hz (Green operated supplied by 24VAC/30mA) output status LED indicator, network health, broadcast address button and Momentary channel button. Can be used in any location that require energy saving, intelligent control

TECHNICAL DATA:
Supply
80-240V, 50/60Hz Single Phase
power consumption: 30mA

Outputs
6 Relays x 16A Each
In 6 Areas (Fully Isolated)
6 X 1-10V outputs

Control IO
3 x Advanced RS485 S-BUS
serial port links (both train &
screw link types)

Upgrade IO
1 x mini USB port (to connect to
special programming board)

User Controls
• front panel override switches,
Includes ON/OFF/AUTO override
switch for each channel
• LED status indicator/channel
• Diagnostic LED+ BROADCAST
• Device can be restored to
previous scene or designated
scene when power restore

Programming
• Advanced Software Configuration
& Programming

Installation
• 35mm DIN-Rail Mount Ready
• Wall Mount Ready (8P)

Compliance
CE Mark Low Voltage
CE Mark EMC
ROHs, CPT, SABS

Internal Protection
• Over Heat Protection
• Over Load Protection
• BUS Rv. Polarity Protection
• BUS Short Circuit Protection
• Protection delay function (0-
60 minutes) per Channel.

Preset and Scenes
6X12 Built in Scenes, and 2X4
Sequence Modes and Logics.
maximum operating time: 60
Minutes. Orderly startup delay function
in each channel. (0-25 seconds)

SBUS DC Supply
24VDC with flexible tolerance
between 8-36VDC. Flexible
ability to add power supply as
to be needed anywhere

Supply Terminals
Line, 6X Inputs 2.5mm2 - 4mm2
max conductor size

Output Terminals
16X OUT for each channel 1 x
4mm2 max conductor size

Operating Environment
-10ē to 45ēC ambient temperature
10% to 93% RH

Enclosure & Size
Polycarbonate, DIN-rail (8 Unit)

Dimensions & Weight
W 91mm x L 145mm x H 75mm
Packed weight 0.6kg
Q: Can We Dim Flourescent Tubes?
A: There are 3 types of Dimmable ballasts
Type A: is DALI
Type B: is 0-10V
Type C: is DSI
Some New technology Energy saving Bulbs are also Dimmable.
We have Made our technology very stable, to make sure that there is a stable supply of current that flows smoothly and evenly in stable form to avoid any flickering in those energy saving dimmable bulbs.. (Unlike other manufacturers)
As General Information to cover Florescent lighting and dimming in simple way, we would like to talk about it as following:
A dimmer switch can provide a more mellow feel to a room than the bright glare ... At the same time, compact fluorescent lights are dimmable ... Achieving mellow lighting while cutting electricity costs. Ballast is a device used with an electric-discharge lamp to obtain the necessary circuit conditions (voltage, current and waveform) for starting and operating: all fluorescent and high intensity discharge (HID) light sources require a ballast for proper operation.
Instant start
An instant start ballast starts lamps without heating the cathodes at all by using a high voltage (around 600 V). It is the most energy efficient type, but gives the least number of starts from a lamp as emissive oxides are blasted from the cold cathode surfaces each time the lamp is started. This is the best type for installations where lamps are not turned on and off very often.
Rapid start
A rapid start ballast applies voltage and heats the cathodes simultaneously. Provides superior lamp life and more cycle life, but uses slightly more energy as the cathodes in each end of the lamp continue to consume heating power as the lamp operates. A dimming circuit can be used with a dimming ballast, which maintains the heating current while allowing lamp current to be controlled.
Programmed start
A programmed-start ballast is a more advanced version of rapid start. This ballast applies power to the filaments first, then after a short delay to allow the cathodes to preheat, applies voltage to the lamps to strike an arc. This ballast gives the best life and most starts from lamps, and so is preferred for applications with very frequent power cycling such as vision examination rooms and restrooms with a motion detector switch.
Diagram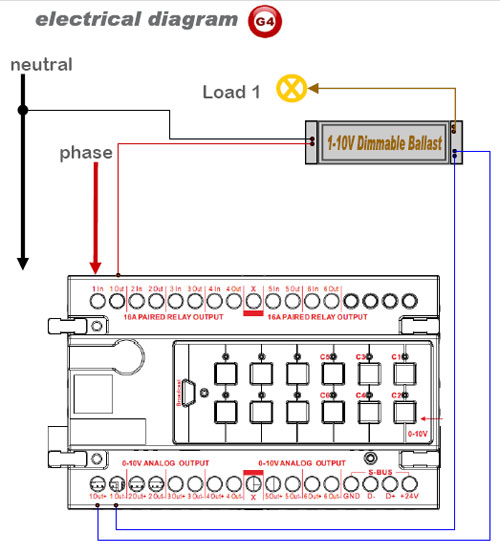 ---
Documents
Softwares and Firmwares
Applications
• Homes
• Hotels
• Restaurants
• Luxury Boats
• Schools
• Factories
• Prayer Halls
• Commercial centers