Smart-Bus Hotel Bedside or Table Side Simplified Panel - SB-BEDSD-UN
GTIN (UPC-EAN): 0610696254825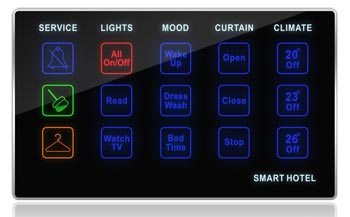 Description
The touch panel is the Smart Hotel guest system command control equipment, has a high sensitivity capacitive touch sensor IC. Provides guest room three state service input, lighting control, scene control, curtain control, temperature control. Each touch button programmable target instruction count up to 20. Has mini USB firmware upgrade port.
WHY G4 (GENERATION-4) IS BETTER? HOTEL DOOR BELL, SERVICE AND ENERGY CARD
| | | |
| --- | --- | --- |
| Hotel wall panels (Features compared) | Old Smart-BUS | New S-BUS G4 |
| Buttons and Surround Finish Material Improvement | Plastic | Aluminum |
| Glass Material Improvement | Thick & Bulky | I Phone Quality 0.8mm Glass |
| Back Module Size | Need Special Back box | Fits all countries |
| Upgrading without opening the Device | Not Possible | By Mini USB |
| Ability to Snap Connect/Disconnect Cables | Not Possible | Snap In Connector |
| Usage difficulty | Difficult Touch | Easy Push Buttons |
| PCB Electronics Design Complexity | Complex | Compact |
| Service call is Integrated within same panel, no need for extra Device like old 3G or 6G | Expensive | Cheaper |
| Works both Online and Offline with Door Access Memory Log and Verification | Not Possible | Possible |
| Built in Logic and Timer | Not Available | Available |
| Easy Backup and Restore using Configuration SW | Not Available | Available |
| Work on Both BUS and Cloud Technology | Not Possible | Possible |
| Monitor House Keeping activity and reporting | Not Possible | Possible |
| Panels Security not to be simple to remove from wall | Not Secure | Secured by Clamps, Magnets, and screw Locks |
| Metal Plate Twist and Screw Installation Simplicity | Not Possible | Possible |
| Design Standards | Asian Curved Design | Modern European Touch |
| Programming and Pairing Manually to Service Door Panel | Not Possible | Easy |
| Flexible Fascia changing (many varieties) | Difficult, Very Thick | Easy |
| All Other Standard Smart-BUS Advanced Automation Features | Included | Included |

TECHNICAL DATA:
Touch Button Allocation
3 for Service Buttons
3 for Light Control Buttons
3 for Mood Control Buttons
3 for Curtain Control Buttons
3 for Climate Control Buttons

Extra features
• Each button has a dual color LED for background and working status indication
• Auto sleep to reduce the current consumption when idle
• Easy sBUS connector tech.

Control Applications
lighting, HVAC, IR, moods
and scenes, hotel guest room service

Compliance
CE Mark EMC

Operating Environment
0ē to 45ēC ambient temperature
20% to 93% RH

Enclosure material
Aluminum, Glass, and poly

Dimensions & Weight
L168mm x W100mm x H14.6mm; weight:0.23kg


Total Gangs
This Touch panel is equal to 20 gangs

Control IO
1 x Advanced RS485 S-BUS
serial port links (both train &
screw link types)

Upgrade IO
1 x mini USB port (to connect to
special programming board)

Operation Protection
• BUS Rv. Polarity Protection
• BUS Short Circuit Protection

SBUS DC Supply
24VDC with flexible tolerance
between 8-32VDC. Flexible
ability to add power supply as
to be needed any where
Power consumption: max 50mA

Installation
• Wall Mount metal frame twist
• Magnetic screw less mounting
• Advanced security locking
• Easy sBUS connector tech.



Q & A
Softwares and Firmwares
Application
• Lighting
• Climate
• Curtains
• Moods
• Service